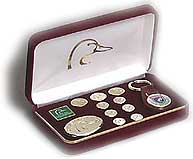 Thank them for their achievements and loyal service in the time honored tradition with hand crafted emblematic and medallic products. Medallions, Pins, Emblematic Jewelry, and Custom Crested Insignia are the most traditional and most treasured form of identifying and recognizing personal achievements!
Working across the full spectrum of base metal alloys, precious metals and gemstones, our design team can assist you in crafting a tangible thank you to your organization's most important people.
Reward them with a treasured keepsake and a lasting symbol of pride and gratitude.